Hosting a Linux Install-Fest
I haven't had the chance to blog anything about it yet but for a while now I've been involved with the Kingston Linux Users Group (KLUG) http://kingston.motd.org/. It's a small but growing group and we recently hosted an Install-Fest event to try and introduce new users to Linux and to increase our group's size.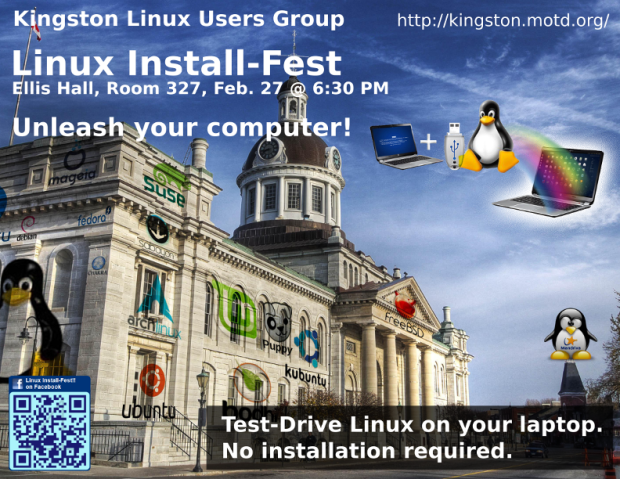 It was a fun experience to plan an event and something new to me that I'd never done in my almost six years at Queen's. I had to book a room through event services (Ellis 327 one of the only rooms with power outlets at the desks!) while other members of KLUG applied for a grant and advertised the event. One thing that I really found amazing was the power of Facebook as an advertising tool, by simply posting in relevant groups from Queen's I was able to reach quite a wide audience and it didn't cost me anything! We also had an add on the radio and in the campus news papers.
Canonical and Red Hat sponsored the event with live CDs and stickers which were both a hit. We also made some slick light-scribe live CDs of our own: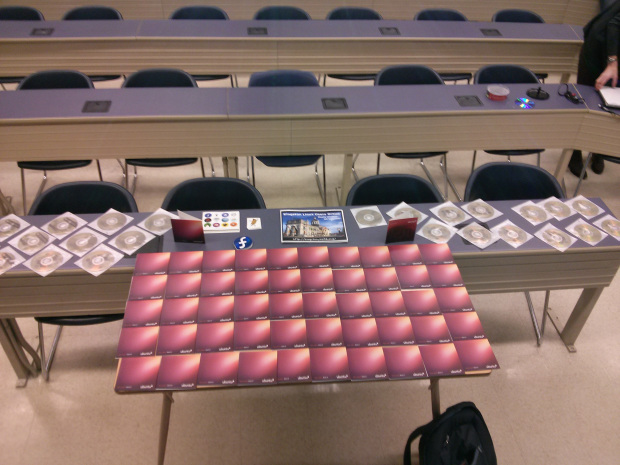 The event itself was a success - we had about 25 - 30 people attend and try/install Linux and I think we've gained some new users to our group. I gave a quick presentation at the start and I hope everyone learned a little bit more about computers.
I'm looking forward to planning more events with KLUG and continuing to spread the good word about Linux!
Final photo of some new users at the event