ARPool on Discovery Channel's Daily Planet
or - "my second television experience"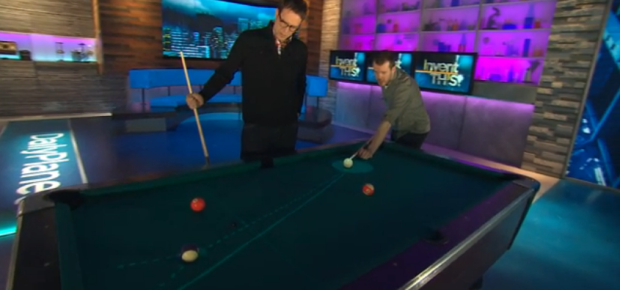 Last Thursday I was contacted by the Daily Planet, a daily science news program on the Discovery Channel, to see if we could bring ARPool in for an invention themed week they were running. I eagerly accepted and after arranging a few details showed up on set the following Tuesday with a laptop, projector and camera to setup ARPool!
I think this time went smoother, at least I was a bit more relaxed, because I knew more of what to expect from a television set. It's very busy and there are lots of people around, some of them know who you are and what you are supposed to be doing and some of them don't and it's really tough to figure out who is in charge. It is pretty hectic I don't know how these people do it everyday because it seems too stressful to me!.
Any ways as always seems to be the case with ARPool getting it calibrated on time came down to the wire. Although I have a few more idea's on how we can make this process better for next time! (the issue we often have has to do with how we mount the camera relative to the projector in the past we've tended to prioritize ease of mounting while in the future I want to prioritize keeping the same configuration as we have in the lab).
Moving on from the technical aspect and onto Show Biz - being on the show was an absolute blast! While we were waiting to start filming Dan, the host, and I were both mic'd up and he had an earpiece; this made for the weirdest situation because we would be chatting waiting to start filming but then suddenly he would start talking to the producer who was in his ear and listening through his mic! I guess it's not much different than being next to someone who is on the phone but the lack of hardware and quick transitions made it pretty wacky!
One thing that really amazed me was how completely unscripted the whole thing was. We did one "dry" interview but pretty much just jumped right into it. The host (and the producer in his ear) keep the show going in the direction they want by asking the right questions and guiding the conversation. It really reminded me of HBO's The Newsroom, which is a brilliant show that you should watch if you haven't! It also really made me think of all the skills that these people have in order to make this happen everyday and how remarkable it all is.
In summary today was an awesome day and I can't wait to see how the segment turned out! Stay tuned for a link! Check it out:
Response to the video has been great:
I got a tweet from Queen's University
Watch Queen's engineering student Kevin Hughes demonstrate ARPool on Discovery Channels' Daily Planet http://t.co/VyDm6rx3 (12:20 mark)

— Queen's News & Media (@QueensuMedia) February 13, 2013
A Facebook share from Queen's ECE, a mention on the Queen's in the News page and a shout out on the ECE-ALLUSERS mailing list!